Up until last summer I NEVER drank coffee. What?! That's right, I spent 26 years of my life without coffee. But after having my second child I decided to start trying to drink coffee because ya'll, I was exhausted! And well as I'm sure you probably guessed, that was the beginning to what will now be a long and happy relationship.
When my second child was only a few months old we realized that, yet again, we had a child with a severe intolerance to dairy and possibly soy. This intolerance is known as MSPI (I will be writing a post about our experiences with MSPI soon). Long story short, I had to cut out all dairy and soy from my diet while breastfeeding. So I began trying to find little ways to treat myself in an effort to stay sane on such a restrictive diet. Enter dairy-free cold brew iced coffee!
It all started when I first tried a Dunkin Donuts vanilla iced coffee with almond milk. It was delicious! After several trips through the Dunkin drive thru to treat myself, it was starting to add up. I decided I had better try to find a way to make these at home. So here is my recipe for dairy-free cold brew iced coffee! I might even go so far as to say it is better than Dunkin! Whether you are vegan, lactose intolerant or nursing a child with a dairy allergy I hope you enjoy this nice cold treat!
Disclosure: This post contains affiliate links, which means I may receive a commission if you click a link and purchase something. Please check out our disclosure policy for more details.
What You Will Need:
-Water
–Vanilla Flavor Syrup (optional) or Sweetener
-Sweetened Vanilla Almond Milk
How to Make Cold Brew Coffee
Grab your favorite medium roast coffee! I love the Dunkin Donuts Original Blend coffee, but I'm usually an Aldi shopper and I have found their medium roast Breakfast Blend to be just as good!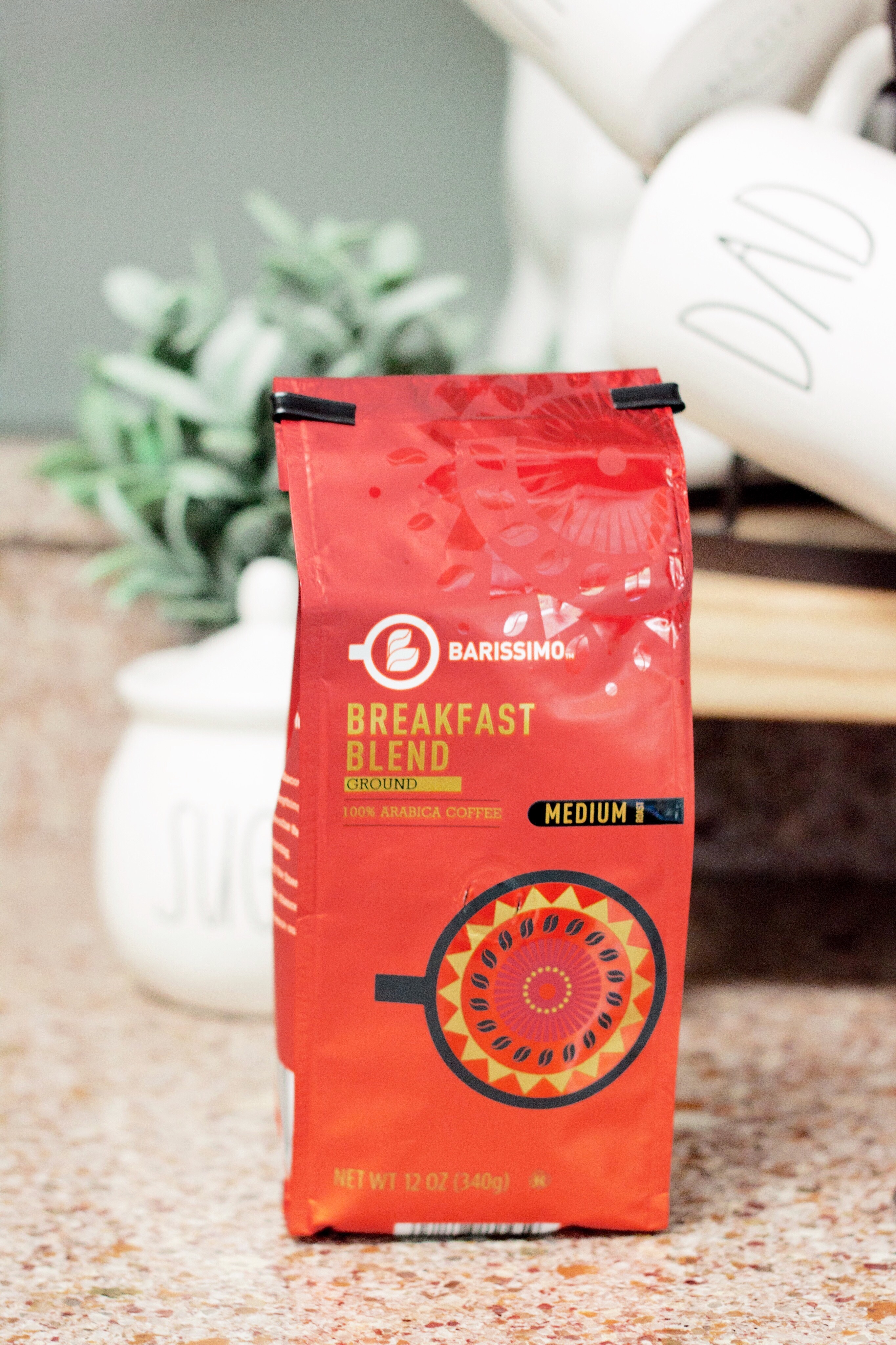 2. First, measure out half a cup of coffee. If you bought coffee beans rather than ground coffee you will need to grind it. It is recommended that you coarsely grind the beans when you are using a french press.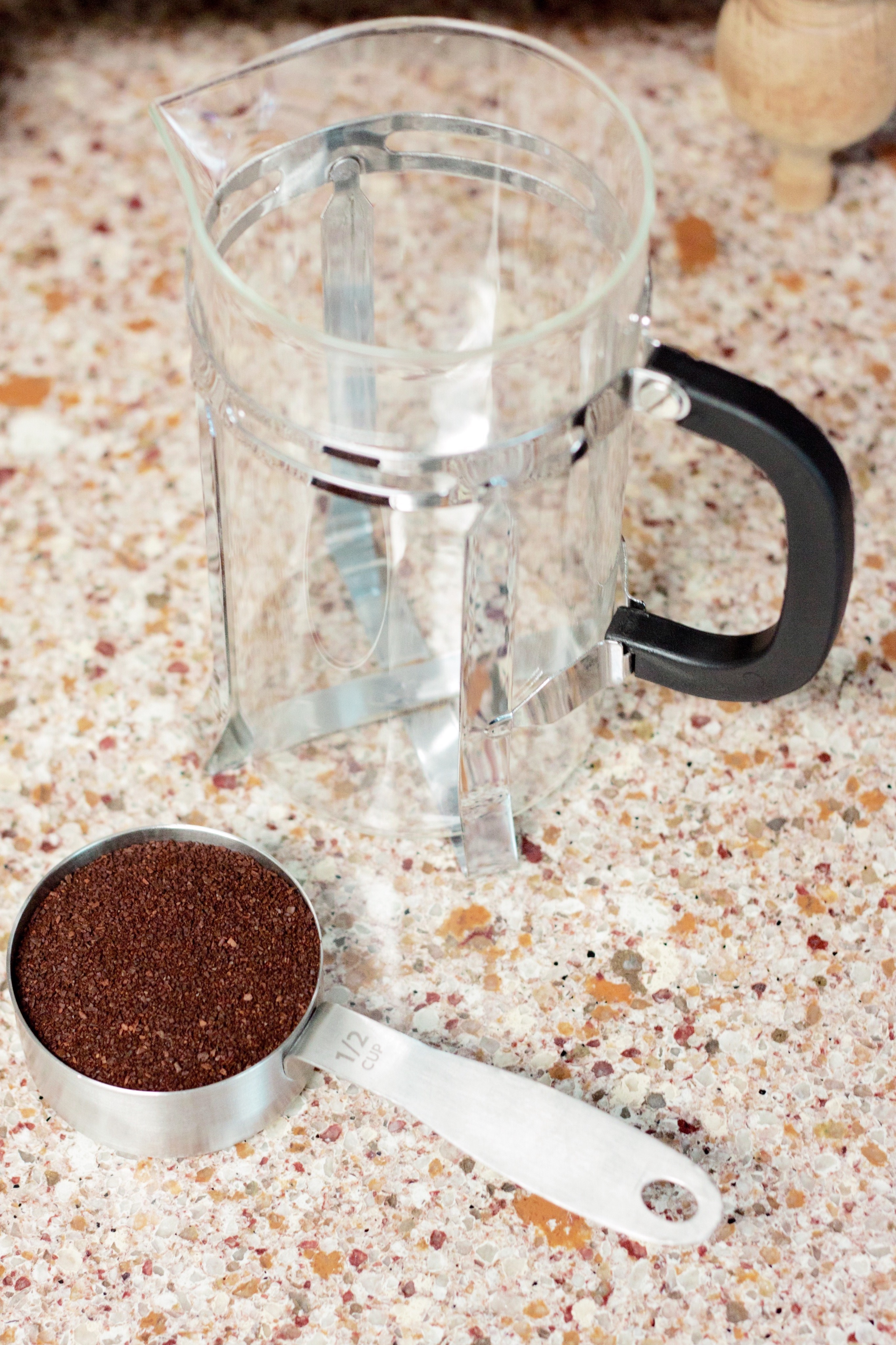 3. Next, pour the ground coffee into the french press.
4. Then fill french press with cold to room temperature water (I fill mine to the top of the metal ring).
5. Place the lid on the french press, do not press the plunger down. Allow the coffee to brew overnight or for a minimum of 8 hours.
6. Finally, press the plunger down and pour the coffee into a clean mason jar to store in the refrigerator.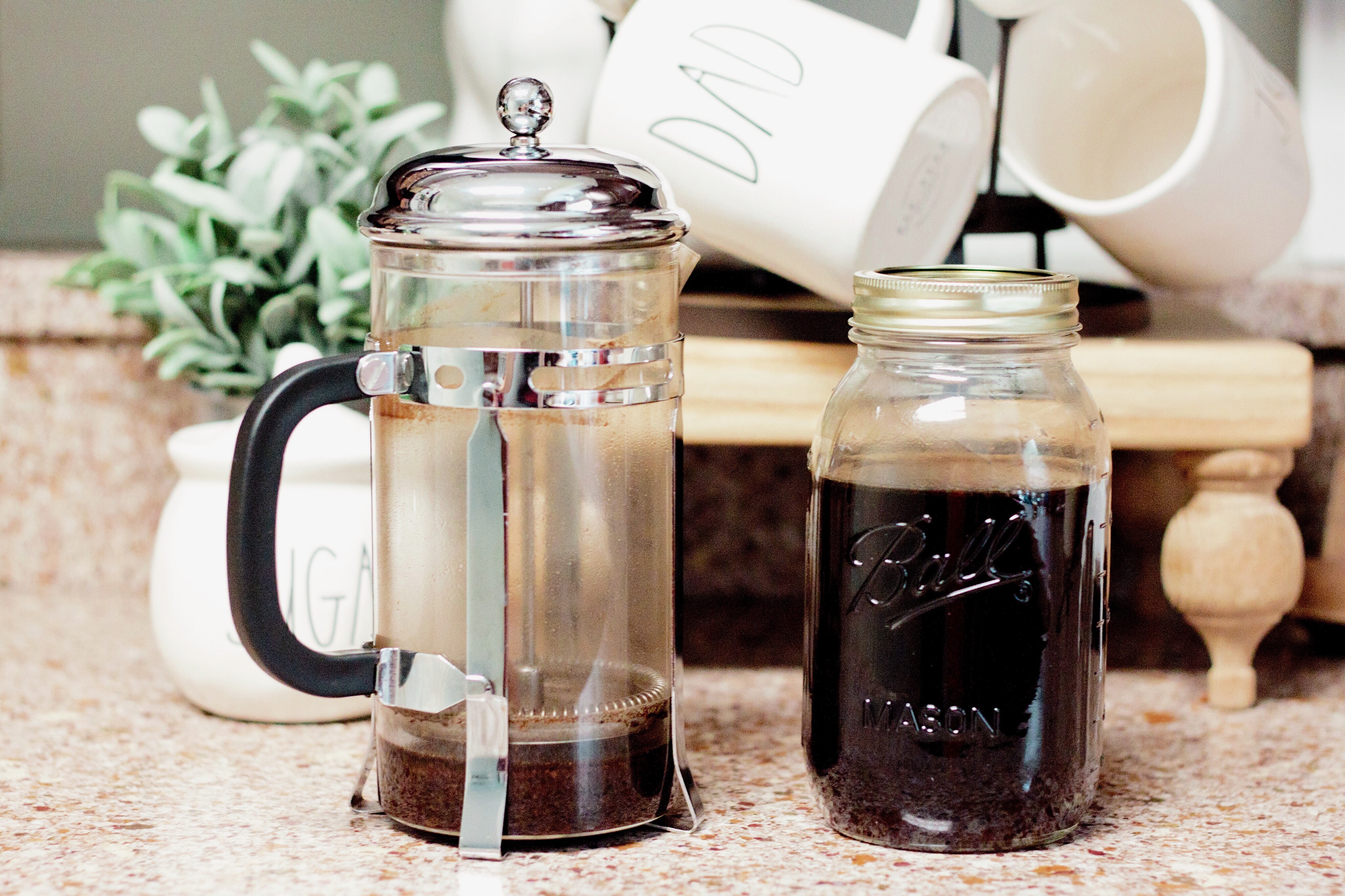 How to Make Dairy-Free Iced Coffee
First, fill a glass with ice and pour in cold brew coffee. Keep in mind that the cold brew is concentrated and will need to be diluted.
2. Next, pour in sweetened vanilla almond milk to your desired amount (I prefer a 1:1 ratio of coffee to almond milk).
3. Finally, add in your sweetener or vanilla flavoring syrup. I prefer to add 1-2 tsp of sugar-free vanilla flavoring syrup!
4. Stir and enjoy your guilt-free dairy-free iced coffee treat!
Are you coffee obsessed? What is your favorite coffee drink to make at home? Share it with me in the comments below!
For more coffee, and decor posts follow me on Instagram @gatherandflourish!
| | |
| --- | --- |
| | |
Add 1/2 cup of your favorite medium roast coffee to french press or mason jar.

Add cold or room temperature water to french press (or mason jar), do not press the plunger down.

Let it steep overnight (or for at least 8 hours).

Press plunger down and pour over ice. If using a mason jar pour coffee mixture through a filter into another mason jar.

Pour over ice (this is a concentrated brew and will need to be diluted).

Add sweetened vanilla almond milk in whatever amount you desire (I prefer a 1:1 ratio of 1 part almond milk to 1 part coffee).

Add 1-2 teaspoons of sugar-free vanilla coffee flavoring syrup.
Don't miss an update! Sign-up for my newsletter below to get each post sent directly to your inbox!
Save
Save
Save